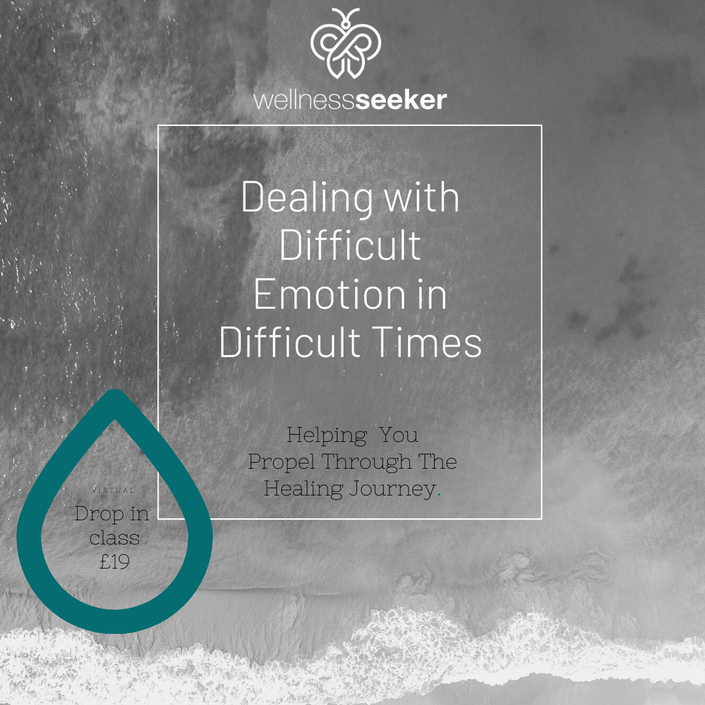 Dealing with Difficult Emotion in Difficult Times
In this months' Drop In Class you will learn how to gain the
grounding you need to cope in difficult times or situations.
~ Eliminate excessive and unhelpful thinking / thoughts


~ Have the ability to stabilise your emotional world when you are in difficulty

~ Manage those difficult emotions and bring yourself back into ease


~ Stop the overwhelm and exhaustion that high energy situations bring


~ Settle your inner emotional world and find calm inside
What We Will Cover
Understand emotions - what they are and why we have them.


Learn about ' Emotional Frequencies '


Understand the difference between everyday emotions and core wounds


Strategies for you to be able manage & stabilise yourself in difficulty


What it would be like to explore feelings and emotions without fear


Put in place a practical ' Action Plan ' to help you through difficult times
Sunday 24th January '21
@
10.30 am - 12.30 pm
via
Zoom Video & Conferencing
( Link will be sent via email on Sunday morning )
Your Instructor
Hi, my name is Shauna Quigley and it is my firm belief that each and every one of us has an abundance of personal power and a potentially limitless passion for life. In each of us there is a zest, a vigour and a joy for life, often hidden in the undergrowth of our own self-doubt, procrastination and even depression.
So why am I so sure of this fact?
Well, because of my own life's experience and the transformational blossoming of those around me who I found to be most broken.
I lived my young life steeped in worry, uncertainty and ultimately fear and it defined me for years. As a child I learned from those around me that life was a struggle, there was never enough, nothing was secure and life was outside my control.
I grew up during the 'Troubles' in the North of Ireland and in a family tormented by alcoholism. This led me to develop the belief that our world could only offer terror, anxiety and drama. I entered the school system at the very young age of three and it was a massive struggle for me. Fear and immaturity blocked my ability to learn and soon I was in remedial class and branded stupid. Right throughout my primary education I sensed I was destined for a life of low educational attainment. These were my life's starting blocks and fear was the predominant emotion that I took into my teen years, which manifested itself in me suffering regular panic attacks partnered with low self-esteem.
This was my story until I decided it wasn't going to be my future!
At fourteen years old things changed for me. Some of the important adults in my life took me under their wing and encouraged me to be my best. I was very young but something inside me was strong and inspired. I taught myself visualisation techniques and I focussed on success in school as the route for change and with every ounce of my ability I pushed though year on year...
The REMEDIAL Student became a GRADUATE; not just once but twice. I graduated with Bachelor of Business (BA) from Manchester University. Then I graduated from Queens University (Russell/Harvard Grp), with a degree in Person Centered Counselling (BACP). Not bad for a stupid kid!

My daily life consisted of searching everywhere for inspiration and positivity. As early as fourteen years old I found my way to Louise L Hay's book 'You Can Heal Your Life' and the adventure began. I sought out learned people in the 'self-help' business, who were sharing their experience of trial, tribulation and healing and fervently listened to their advice. I watched hours and hours of Oprah Winfrey's shows (among many others), seeking what I needed to move forward on my journey to well-being.
YET the real journey of healing began for me when I took the brave choice to focus and become acquainted with my core beliefs and 'stinking thinking' (my yoga teachers name for negative thoughts). I say 'brave' because it takes courage to face the demons that lurk inside each of us, but it's essential to the healing process. We all have the instinct to run from these difficult feelings but, to face them, to take them on one at a time if needs be, to shine the light on them...that's the resolution that wins.
I embarked on a life built from the inside out and the results have been remarkable.
This journey has helped me unearth my passion and purpose and in turn, led me to launch wellnessseeker. My ambition, through my work here, is to provide every 'seeker of wellness' with a tangible and actionable knowledge of the material required to live a life of passion, purpose, personal power and positivity.
Wellnessseeker is designed to inspire, empower, encourage, uplift and challenge everyone to live their best lives; we do this through our pod casts, articles, projects and wellnessseeker on-line school.
Today I am living a free and full life together with my lovely husband and our three young boys. I practice yoga and meditation on a regular basis and I am continuously striving to live my best life.
Wellness is my passion - Your wellness is my life's purpose.
With power and positivity, Shauna x
Course Curriculum
Drop In Class Replay
Available in days
days after you enroll
Additional Documentation
Available in days
days after you enroll
Additional Resources
Available in days
days after you enroll
Frequently Asked Questions
When does the class start and finish?
The class starts on Sunday 24th January '21 from 10.30 am - 12.30pm Can't make it live no problem, the replay will be available after the class and uploaded here on your Teachable Academy.
How long do I have access to the class ?
How does lifetime access sound? After purchasing, you have unlimited access for as long as you like - across any and all devices you own. A replay will be sent to you via email 24 hrs after the live class. You will also be able to access the replay here on The Teachable Academy.
What if I am unhappy with the class ?
As this is a Live & Virtual Class, no refunds are available
How do I get access to the class ?
On Zoom Video Conference . A link and meeting details will be sent to you via the email address you used to register / purchase. You will receive this on the morning of the class.